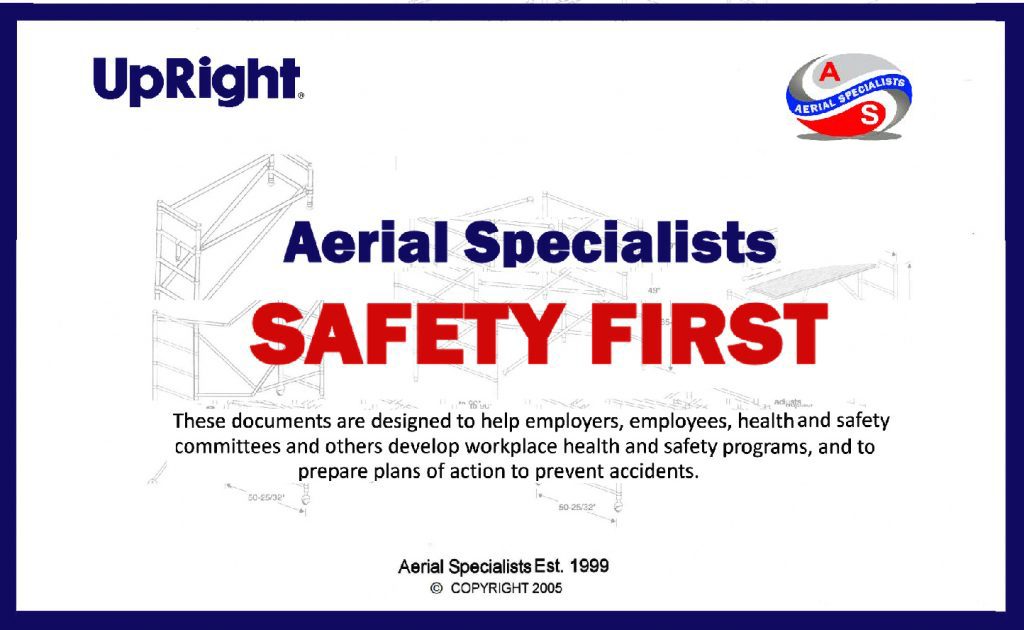 These documents are designed to help employers, employees, health and safety committees and others develop workplace health and safety programs, and to prepare plans of action to prevent accidents.
Information about the safe use of scaffold is available from :
Occupational Safety and Health Administration : www.osha.gov
Scaffold & Access Industry Association : www.saiaonline.org
Cal-OSHA : www.dir.ca.gov
University of Chicago Scaffold Safety
Instructions for UpRight Scaffold
GENERAL SAFETY RULES
Be sure the scaffold is level at all times. When a leg is adjusted, be sure to push the locking collar completely over the expanding nut and below the safety locks. (See instructions below.) Never make leg adjustments when anyone is on the scaffold.
Don't try to "stretch" the platform height with the adjustable legs. When additional height is required, add more scaffold sec­tions. Save the leg adjustment for leveling the scaffold.
Never lean a ladder against a scaffold. Never place a ladder on the platform of a scaffold. Never push or pull or lean against the wall or ceiling when standing or sitting on a scaffold, unless it is securely tied-in to the building.
Make sure all locking hooks are firmly in position and that the spring-loaded locking pins have functioned properly. These hooks appear at each end of separate horizontal and diagonal braces and at the upper end of stairways.
Before using a scaffold with folding braces, be sure that the latches of all locking hinges are locked (see page 2 for details).
Always install a safety railing & toeboards when a platform is to be used at heights of 4 ft. (1.2 m.) or over on single width span scaffolds, and 71/2 ft. (2.3 m.) or over on double width span scaffolds.
When the height of a scaffold platform is going to exceed three (3) times the minimum base dimension, the base must be enlarged by using Outboard Supports, Wideners or Outriggers, or the scaffold must be tied-in to the building.
Do not climb on or stand on diagonal braces. Work only while standing on one of the platforms. When climbing the scaffold lower end frame, be careful to go over the top to get to the platform. Never swing around the outside of the ladder.
Never use any scaffold in the vicinity of live electrical apparatus or near machinery in operation.
The columns of each scaffold section are furnished with interlock clips parked in the lower of a pair of holes at the upper ends. As an upper section is inserted, the interlock clips of the section below are moved to the upper of the two holes, engaging the matching holes in the upper section bushings, interlocking the two sections. Never erect a scaffold without interlocking the sections in this manner. If interlock clips are damaged or lost, replace them immediately.
Basic scaffold safety
"Long Way – up, Long Way Down" is the phrase used for the most common accident involving scaffolding. Falls from high places are usually serious. Studies show that half of all people hitting a hard surface with a velocity of 18 miles per hour- that's 27-feet per second- will be killed. This means you could die from a fall of only 11-feet. 90% of all falls involving scaffolds happen while workers are performing routine jobs and that the average height of those falls is 12 to 15 feet.
A 200-pound man falling at a distance of 6-feet produces 1200 pounds of force.
A trained "Competent Person" should be used to supervise all scaffold erections. A "Competent Person" must be able to take prompt action to eliminate predictable hazards. Logically then, he/she should be within line of sight of erection, dismantling, or alteration activity.
Follow the manufacturer's instructions when erecting the scaffold.
Do not work on scaffolds outside during stormy or windy weather.
Do not climb on scaffolds that wobble or lean to one side.
Initially inspect the scaffold prior to mounting it. Do not use a scaffold if any pulley, block, hook or fitting is visibly worn, cracked, rusted or otherwise damaged.
Do not use a scaffold if any rope is frayed, torn or visibly damaged.
Do not use any scaffold tagged "Out of Service".
Do not use unstable objects such as barrels, boxes, loose brick or concrete blocks to support scaffolds or planks.
Do not work on platforms or scaffolds unless they are fully planked.
Do not use a scaffold unless guardrails and all flooring are in place.
Level the scaffold after each move. Do not extend adjusting leg screws more than 12 inches.
Do not walk or work beneath a scaffold unless a wire mesh has been installed between the mid-rail and the toe-board or planking.
Use your safety belts and lanyards when working on scaffolding at a height of 10 feet or more above ground level. Attach the lanyard to a secure member of the scaffold.
Do not climb the cross braces for access to the scaffold. Use the ladder.
Do not jump from, to, or between scaffolding.
Do not slide down cables, ropes or guys used for bracing.
Keep both feet on the decking. Do not sit or climb on the guardrails.
Do not lean out from the scaffold. Do not rock the scaffold.
Keep the scaffold-free of scraps, loose tools, tangled lines, and other obstructions.
Do not throw anything "overboard" unless a spotter is available. Use the debris chutes or lower things by hoist or by hand.
Do not move a mobile scaffold if anyone is on the scaffold.
Chock the wheels of the rolling scaffold, using the wheel blocks, and also lock the wheels by using your foot to depress the wheel-lock, before using the scaffold.